Johnny Cash's middle finger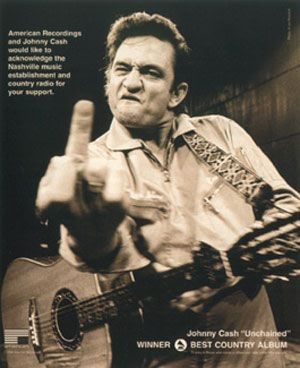 As a blogger, I occasionally am obligated to say something about the various search terms that lead people to my blog. This one is weird: Someone searched Yahoo for "Johnny Cash middle finger poster" and got here.
What's weird about this is that I don't remember recently posting about the famous picture of Johnny Cash flipping the bird that was run as a full-page ad as a sarcastic thank-you to the Nashville music industry for their lack of support. But I was
talking
about it yesterday.
I used to think Google was the best search engine out there. But Yahoo just took things to a whole new level.